Half Marathon World Record Attempt

Janelle Jordan

/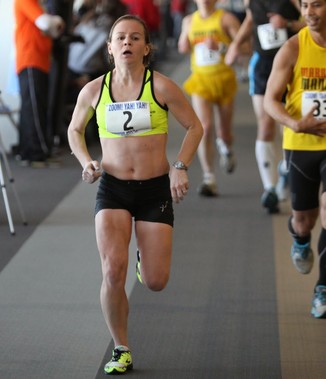 Nichole Porath will be attempting to break the Guiness Book of World Records for pushing a double stroller in the half marathon. She is from Marshall, MN and currently lives in Northfield with her husband and two young girls (who she plans to push). Nichole is a former world record holder in the indoor marathon (2:57) and raced in the 2012 Olympic trials. She is a graduate of Gustavus Adolphus, where she was a competitive runner chasing down 5 collegiate track records and several all-conference and all-region titles in XC before graduating in 2005. View Nichole's blog.
This year's new Get It Dunn half marathon course is set to be fast because it's very flat. Nichole found our race online and concluded that it would be a good race for her to attempt the record. In light of Nichole's interest in attempting to break the record, race organizers have had the course certified by the USATF. (Certification #WI17005DM)
Meet Nichole Friday, May 12 at Pinewood Golf Club and Restaurant at 6:00 p.m. where she will be talking about her running career, coaching and life as a professional runner. The public is welcome to attend the event. Pinewood is offering a "carb loading" meal for those interested in loading up before race day. $10 for adults, $5 for ages 6-12 and free for kids 5 and under. Simply add on when you register for your race on active.com or pay at the restaurant. Pinewood is located at N4545 440th St. Menomonie, WI 54751.
All proceeds raised from the Get It Dunn Run go to Mind Over Matter (M.O.M.), Inc., a non-profit organization that donates over $20,000 in camperships and scholarships annually to members of our community.